I woke up this morning refreshed and read to go after an awesome 8 hour sleep. Isn't it amazing how much a little sleep can improve your outlook on this. My day, week, YEAR was made this morning when I had the opportunity to conduct a
super cool interview
that I have been looking forward to for a week now! No worries, you all will see the write up next week sometime and I guarantee you will love it!
I cannot wait to share all the great info I got today.
This morning I was really craving fruit and yogurt so I decided to use up some of the Mangoes I still have left from the Bikini Bootcamp challenge to make up a
"Tropical Parfait".
(Should've added pineapple too - next time!)
1 medium mango, chopped
1 banana, sliced
1/2 c TJ's 2 % greek yogurt
2 Tbsp Kashi Honey Almond Flax Crunch
Sprinkle of organic unsweetened coconut
Dashes of cinnamon
Drizzle of Sweet Cactus Dark Agave Syrup
Layers and layers of fun to eat!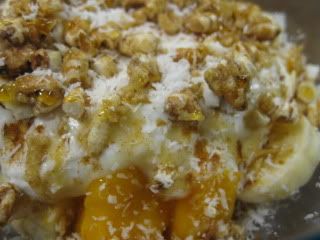 Dark Agave Nectar is more like brown sugar - deep, rich and amazing on greek yogurt!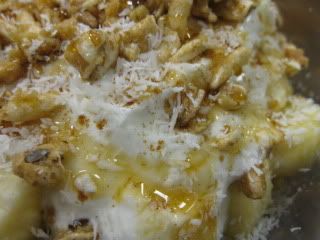 I made sure I got a little Mango Goodness + Banana + Agave Sweetness + crunch in every bite!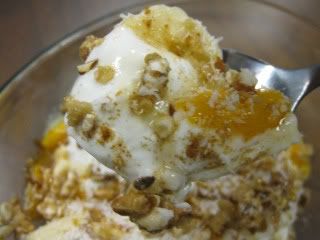 This was such a fun breakfast to eat that was dessert like ~ rich, creamy, sweet, crunchy and just plain YUM! It will definitely hold me over for hours with the protein and fiber so I shouldn't need a morning snack.
Today is the last day to win some Holey Donuts.
Click
HERE
before it's too late!
Have a Terffic Thursday all ~ I am off to do
Body Pump
at lunch and find two more uses for that fabulous Southwestern Turkey that we had last night! See you all later!