After a really long day today, I came home to the best surprise that completely brightened my day. Do you remember a few weeks back that I told you I won the
Foodbuzz Tell A Friend Drawing
? My ALL CLAD STAINLESS STEEL STIRFRY PAN arrived tonight!
After reading the box, I couldn't take the excitement and opened it up to find this beauty of a pan.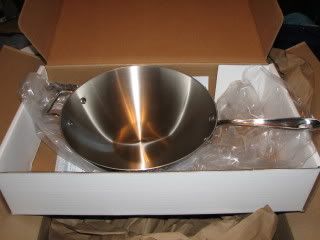 It's a REAL stir fry pan. I do not have one of those in my Healthy Gourmet Stainless Steel set. I am so incredibly excited - I almost switched my dinner plans just to try it out.
This came along with my newest free edition of People Magazine....this was seriously just what I needed!
I will definitely be using my pan soon and I will make sure to show it off with my recipe ~ yeah!