So last night The Husband got all excited and told me we needed to celebrate Cinco De Mayo today :D....silly boy, he was fast forwarding to May already I guess but it made me laugh. So,this afternoon I couldn't resist pulling out one of the leftover napkins we have a work from Last Year's Cinco De Mayo.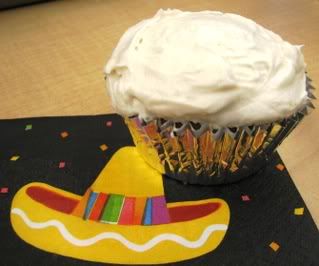 I have to give an update on the
Vegan Carrot Cake Cupcakes with Vegan Cream Cheese Frosting
~ they are seriously "orgasmically" good! Can I say that?! Well, it's my blog so I should be able to :D Anyway - they are so delicious. I savored it with a hot cup of Good Earth Sweet & Spicy Tea.. Put it all together and it sounds pretty darn funny!