Any healthy eating plan that encompasses ice cream/frozen yogurt is definitely a plan that I want to try....however, the Jump Start Diet takes it to a whole new level by serving you up FroYo with your dinner! I seriously didn't believe my eyes when I saw this as part of my dinner (I had to read the "Frozen" part twice - ao awesome!)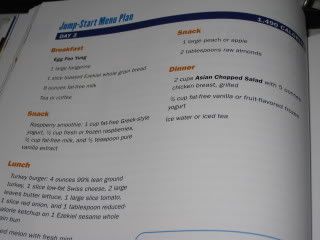 I know you SHOULD always start with dessert first, but, I refrained. I had the most amazing homemade Asian Salad w/Salad Dressing ever tonight. I have to admit I was a little skeptical because the dressing has tofu in it, but, you don't taste the tofu at all. It simply adds an amazing, creamy thickness to the dressing that makes you think it is a fattier dressing. You can get the recipe for the salad & the dressing by clicking
HERE
- this is one you will definitely want to save, I promise! I did add a little Sriyachi Hot Sauce for some kick and used green onions in the salad as well. Here are all the fresh veggies ready to get dressed.
And my TWO CUP, 120 calorie serving - such a deal, right! I could see adding this salad into the regular rotation for sure.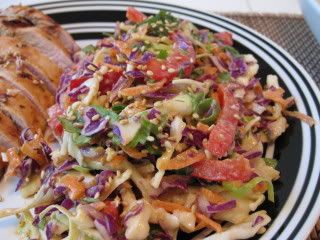 I grilled up a 5 oz chicken breast and brushed it with the fabulous dressing above as it cooked.....Topped with sesame seeds and it really did complete the meal.
But, wait, there is more - I knew there was a reason I LOVED my eats today.....3/4 cup Almost Fat Free Mango/Vanilla Frozen Yogurt!!! I bought the NEW Dreyers Frozen Yogurt Vanilla/Mango Blend.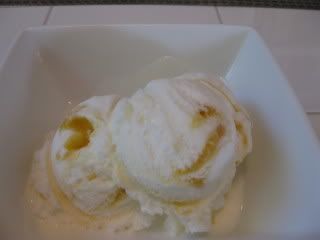 This flavor seriously rocks! I LOVE the vanilla froyo as it is, but, it was so tasty getting to the swirls of sorbet mango. It made it taste sort of tropical and it was definitely the perfect "side dish" to my dinner :D
I was a bad blogger this afternoon in that I forgot to take a picture of my afternoon snack ~ an organic fuji apple with 2 Tbsp organic almond butter. It was so delicious! Today was such a good food day.
My workout today was another 22 minute walk plus 10 minutes of mobility exercises with a Yoga Emphasis.
Each exercise is done twice in under 1 minute:
* Toe Touch Reach
* Plank ~ bleh!
* Cobra
* Opposite Arm & Leg Reach
* Bridge
Coming up next, the winners to the Annie's Naturals Dressing Go Green Giveaway!