Can I just say you all rock?! I am loving reading all your comments about the different
Annie's
Products you want to try and the different ways you will use them. Thanks so much to everyone who has told their friends, added me to their blogrolls and linked to the contest! The
Annie's Mac & Cheese Contest
is going on through
Thursday at Midnight
so be sure to enter now by clicking
HERE
if you haven't already!
This morning's Jump Start Breakfast was the make a Breakfast Burrito ~ Yum! I cooked up my 3 egg whites in a small ramkin sprayed with nonstick spray in the microwave for 45 seconds. I topped my Mission Healthy Balance Tortilla with 3 Tbsp lowfat Monterey Jack, the egg whites, sea salt and pepper.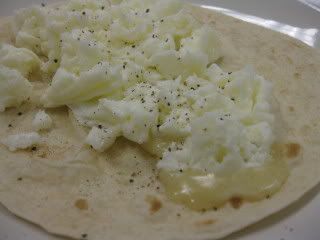 Drizzle a few tablespoons of your favorite salsa and if you are like me (Omit the ff refried beans -beans do not belong with my eggs!). Honestly I think that can be such a bad combination for your system! :D
Wrap it up and enjoy! I had 1 cup of fresh, crunchy, sweet blueberries on the side.
For some additional protein and to check off that dairy requirement, I had 8 oz of ff milk, some decaf coffee and my
Nathan
Bottle full of water.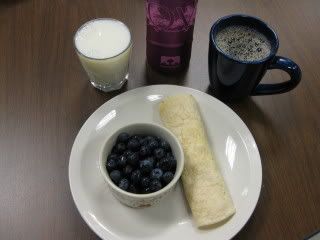 My quick recap for yesterday ( I definitely did too much working/sitting on my rear :):
Calories burned: 2,470, Steps taken: 2,470, Calories Eaten: didn't calc but should be close to 1,500
TODAY'S FUN NEWS:
*

Have you ever wondered how much it takes to burn off a bowl of ice cream?
Click
HERE
to find out! I still think it's totally worth it!
*
Now you all know I am a HUGE Biggest Loser Fan....So of course I have to throw something in here about voting for the 3rd finalist. My vote is to vote the dad IN (I don't like him) and the son OUT( because I want Tara to win!).
Make sure your vote is heard, click
HERE!
*
Did you all see the fabulous
110 Calorie Turkey Muffins
they made on last nights show? I am definitely added these into the mix soon, I hope! Click
HERE
for recipe!
*

Do you have a favorite lemon recipe? I would LOVE to know what it is because I have to make something for a birthday party celebration tomorrow.
Happy Hump Day All! I will catch you after lunch - whether it's going out to eat (to celebrate the birthdays!) or going for a run (which I NEED!)